KPML Introduced 2 ATMs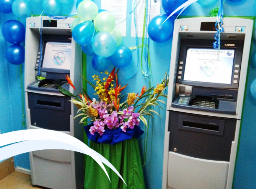 KPML purchased 2 ATMs in 2016 and immediately put into use to service our account holders. The implementation of the ATMs makes KPML the first Micro-bank to operate its own ATM network in Papua New Guinea. Currently, our network is not connected to other Banks and so our customers cannot use Poroman Cards at the ATMs or EFTPOS owned by other banks. We hope this inter-connectivity will soon be possible when BPNG implements the National Payment Switch (NPS).
New Technologies introduced to provide quality and efficient service to the customers
Read more on The National Newspaper.
Both cash dispensers were originally installed in Kokopo Office. The introduction of ATMs has improved the banking time as withdrawal customers are now using the ATM to conveniently access their funds.
In October 2017, KPML moved one of the ATMs to Rabaul Agency office as a result of growth and demand to service our customers around Rabaul district. Since the relocation of ATM, we have seen happy customers in both districts.
The maximum amount to be withdrawn at the ATM is K2000 and minimum is K10. ATM withdrawal fee is K0.50 and balance enquiry is K0.30.
We pride ourselves for being the first micro-bank to invest in ATM card embossing technologies allowing us to produce ATM cards for our customers within 20 minutes of the application, same day processing.
We are looking at implementing one more ATM at our Kerevat Agency to service our Gazelle customers.
Kada Poroman Microfinance Limited was initiated purposefully;
To provide financial services to the majority of economically active people in East New
Britain Province,
To promote more participation by nationals in the economic development of the district,
particularly those involved in the informal sector,
To provide an alternative and user friendly banking services for the grass-root people
whom the existing commercial banks and other financial service providers do not
have the time to deal with as they usually considered as non-bankable.